CONSERVATORY WITH FRENCH DOORS
One of the most exciting developments in conservatory design over the past few years has been the incredible Loggia conservatory.
When the Loggia was first introduced to the world, people were completely taken aback by the luxuriousness of the design. Devised by some of Italy's greatest designers and executed by Britain's finest engineers, the Loggia gives you the same light and spaciousness provided by a glass conservatory, with the thermal and practical benefits of a brick-built extension.
Within seconds of seeing one, the owners of this house were desperate to own one. We finished it in our classic cream colour – a befitting finish for those super insulated ornate corner columns. It also has a solar controlled glass roof.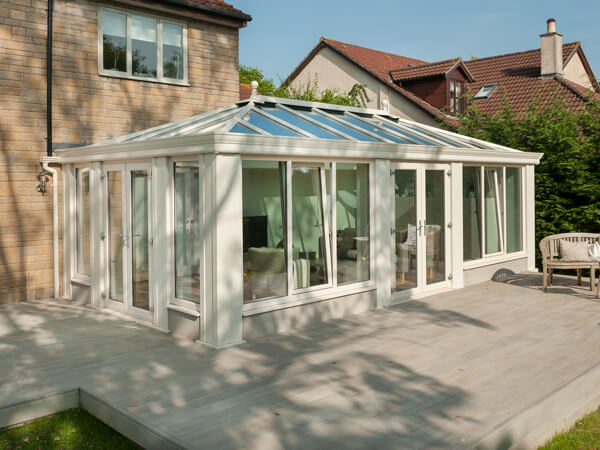 To illuminate the interior at night, the spotlights within the perimeter ceiling can be turned on and they emit a soft, yet strong light. Contrary to most other conservatory designs, we were also able to integrate tilt & turn windows into the structure so that the front face of the extension can be extended open, just as it can be via the French doors.
Purity handles are affixed to these doors and they feel fabulous in the hand when they're being operated. They also contain a multi-point lock for secure purposes to protect the Loggia from any potential break-in. The Loggia has ripped up the rulebook.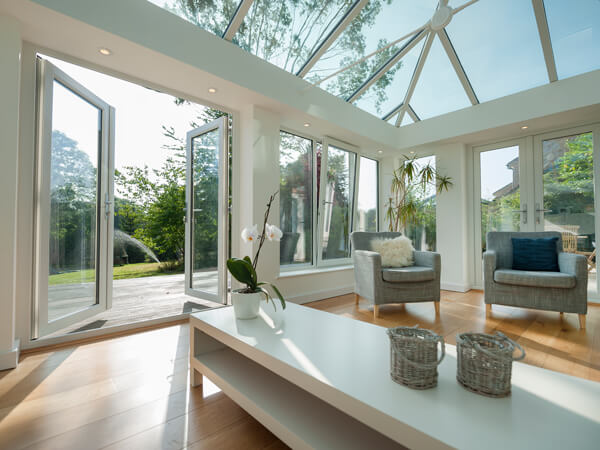 NEED MORE INSPIRATION? REQUEST A BROCHURE
Simply select the brochure(s) you would like to browse, fill in your details, and then click 'Download'.
Step 1 - Please select the brochure(s) you would like:
INSPIRED? GET A FREE QUOTE TODAY!
Simply fill in your details for your free, no obligation quotation, and click "Get Quote"
Our friendly team will be pleased to help with any questions you may have.