Creating wide-open spaces and allowing natural light to flood into your home, our range of Bi-Folding doors will transform how you use your home. Bi-folding doors are incredibly versatile and functional; enabling you to change how you use them again and again. Providing market- leading energy-efficiency, increased sunlight and incredible security, these doors are unrivalled in terms of the benefits they offer.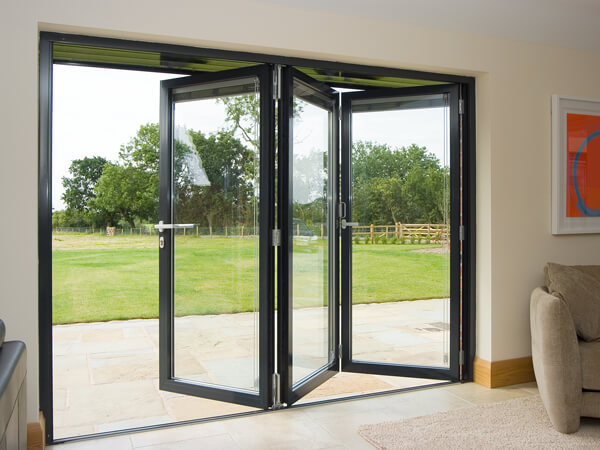 From bringing the outside into your home to creating useful new living spaces by separating existing rooms, Bi-Folding doors can be installed anywhere in your home, providing you with endless possibilities. Such functionality and the ease at which our experienced fitters can install doors into any structure have also made them a fantastic addition to conservatories and orangeries. From White and Black, to incredibly realistic woodgrain finishes in Oak, Rosewood and Walnut, you have the freedom of choice to ensure you get the exact colour you want.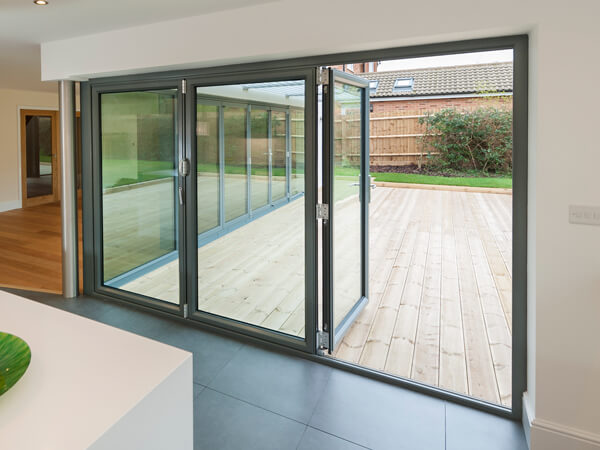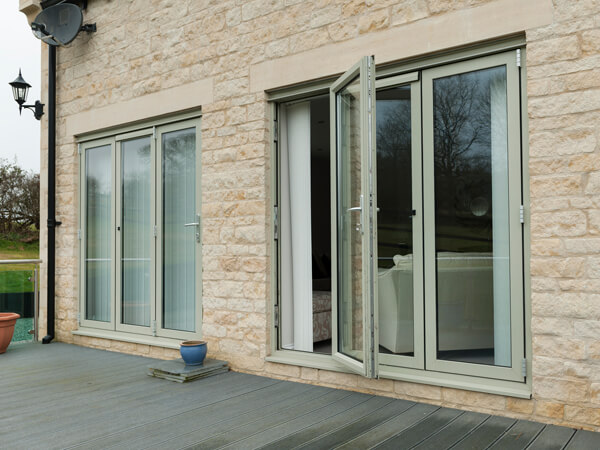 Bi-Fold Doors
Designed to fit any sized space, from two-door leaf upwards, Bi-Folding doors allow you to transform how your home looks with nothing more than a gentle push.
By clicking the various hotspots opposite you can find out more about each of the main features of our bi-folding doors.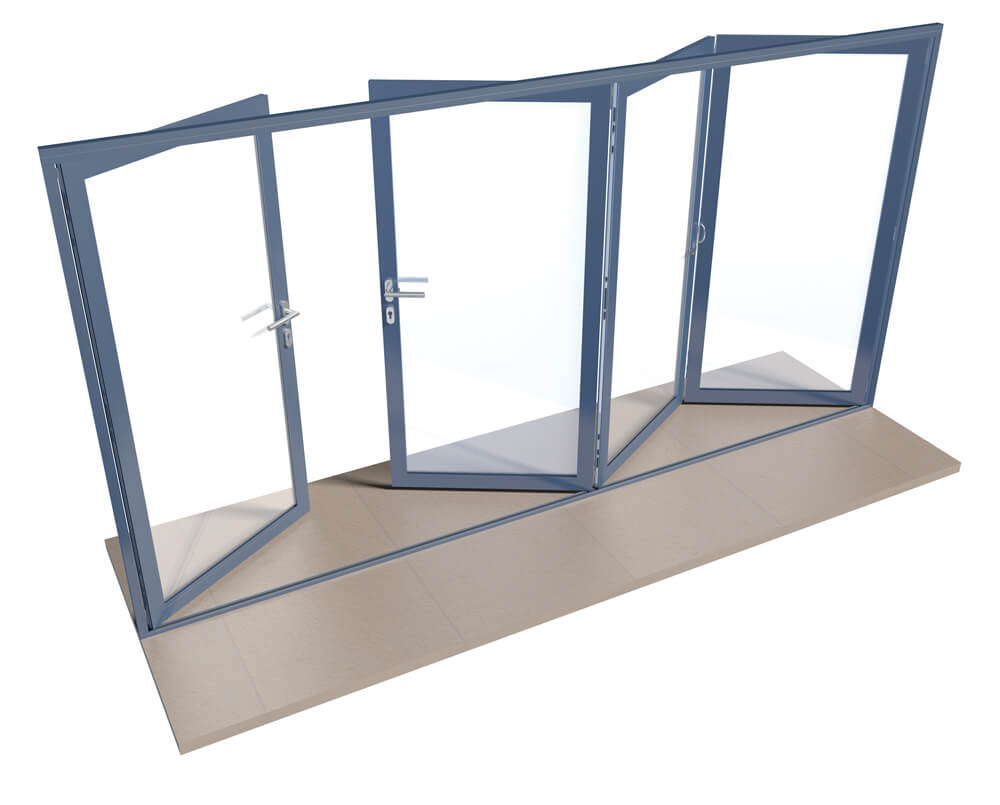 Bi-Fold Frame
Our Bi-Fold frames boast maximum warmth and security and slide effortlessly to the side to make the most of your space. You can even incorporate a discreet passenger door for everyday entry.
Bi-Fold hardware
Our Bi-Fold Door Handles come in a range of colours to suit your home, they're built to last with robust materials and quality finishes.
Bi-Fold Easy Glide System
The sliding operation of a bi-folding door relies on a high-quality stainless-steel track on which quad rollers, which are fitted to the door leafs, glide along in elegant fashion. The same quad rollers are fitted with a small brush on one end to keep the tracks free of dust and dirt.
Bi-Fold Low Threshold
Low level thresholds increase the ease of access for everyone involved. An optional outer and inner ramp can be added on to the threshold to further enhance the accessibility for wheelchair users.
We have prioritised security as well as stylishness...
The multi-point locking mechanism inside both our Extreme UPVC and Eclipse Aluminium bi-folding doors plays a vital role in keeping it secure when locked. It engages at several points, and in several directions, into an extremely tough lock keep.
Supplied with either the toughest double or triple glazed units, our doors are designed to be as secure as possible to keep you and your home safe. Tested cylinder locks are also located inside of the high security master handles.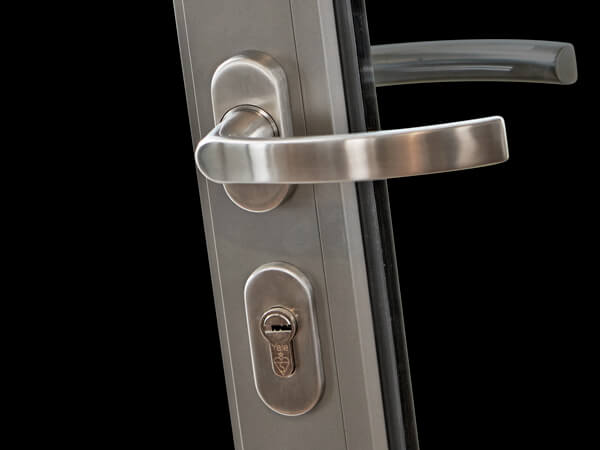 PUT YOUR STAMP ON THE DESIGN
Once you have notified our advisor of what coloured finish, hardware and glazing you would prefer, the design process will begin and our team will start creating your aluminium bi-folding doors.
Bi-fold doors can be made with as few as two panes.
With all bi-fold doors, configurations can be manufactured in arrange of sizes, colours and configurations. This minimalist style of bi-fold door could be used internally to connect a room with an orangery or conservatory, or you go choose from our 7 panel bi-fold door to create a large opening to your garden.
Colours that will please every customer at Amber...
Choosing a configuration for your new bi-folding door isn't the only tough decision you face. You also need to pick a coloured finish and our colour range includes three fantastic woodgrain effects in Walnut, Rosewood and Oak. We also have powder-coating finishes for those who like a finish with more depth than a standard aluminium colour. If you like more than one colour, you can always have a dual-finish and get the best of both worlds.
The handles on the bi-folding door make for easy use...
You have a choice of three types of handle for our Extreme UPVC and Eclipse Aluminium bi-folding doors, all of which offer something a little different. When French Doors are integrated into the design, a master handle is required to house the cylinder lock and to engage the multi-point locking system when the bi-folding door is closed.
You'll also be required to have a D-handle and intermediate handle on every section of the bi-fold. The D-handle is used to release the folding panes from the door frame when the door is being opened and then re-engages them when closed. The D-handle is also used to push or pull the folding panes. Our master handles are provided in traditional and modern styles and can be made to colour-match the intermediate and D-handles.
REQUEST YOUR FREE DOOR QUOTE
Simply fill in your details for your free, no obligation quotation, and click "Get Quote"