GLASS TO FLOOR CONSERVATORY
Maximise your view of the outdoors from the inside of your conservatory with a glass-to-floor arrangement.
Count yourself lucky if you own a garden and whatever way possible, ensure you embrace it as much as you possibly can. You can do that without even stepping outdoors if you have a glass-to-floor conservatory where you can admire it from opulent surrounds.
That was the call made by this householder who specifically requested a glass-to-floor design for that purpose. Glass also dominates the roof covering and it makes a massive contribution to the bright and sunny feel of the interior. When garden use proves too tempting, accessibility to it comes courtesy of the French doors.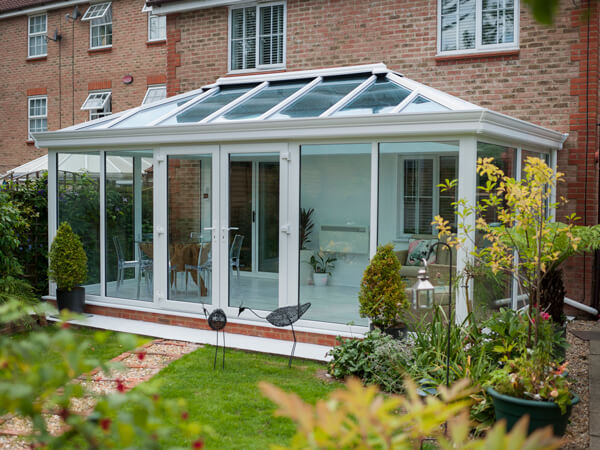 Rather than having one sole purpose, this conservatory is a multi-purpose space where the occupants can take time to chill out, eat or complete some work away from the office. The placement of energy efficient spotlights in the internal pelmet let them enjoy such activities through the night.
These spotlights are cheap to run and will keep lighting costs down. The inclusion of the internal pelmet was also essential if we were to incorporate full height glass panels into the extension – that wouldn't be possible without them. Any concerns about the conservatory overheating because of the wealth of glass it contains, won't come to fruition. It couldn't feel better insulated.
NEED MORE INSPIRATION? REQUEST A BROCHURE
Simply select the brochure(s) you would like to browse, fill in your details, and then click 'Download'.
Step 1 - Please select the brochure(s) you would like:
INSPIRED? GET A FREE QUOTE TODAY!
Simply fill in your details for your free, no obligation quotation, and click "Get Quote"
Our friendly team will be pleased to help with any questions you may have.